Are you seeking the perfect gift to spice up your relationship? Look no further! Adult gifts for couples are a great way to add heat and romance to your love life. From sensual massage oils to sexy lingerie, there are plenty of options. In this blog post, we'll explore some of the best adult gifts for couples that will ignite your relationship's passion. So, sit back, relax, and prepare to take your love life to the next level!
What are some excellent adult gifts for couples?
Are you looking for the perfect gift for your significant other? As a long-term couple, it can be difficult to develop fresh and exciting ideas year after year. Fortunately, plenty of fun and unique items can help reignite the spark and make your next anniversary or special occasion even more memorable.
Here are a few of our top cute picks:
1. Couples' cooking classes
Cooking together can be a great way to bond and create new memories. Sign up for a class focusing on a particular cuisine or technique, like sushi-making or pasta-making. It might not be as adventurous as a hot night together, but it's undoubtedly creating an additional bond between wife and husband.
2. Personalized wine glasses
Enjoy a glass of your favourite vintage in style with custom-engraved wine glasses. You can add your initials or a meaningful message to make them extra special. This is for married couples who appreciate a good wine bottle and what comes after. If your boyfriend or girlfriend is not into wine, you can pick up the following options.
3. Board games or puzzles
If you're looking for a fun and low-key way to spend a night in, consider picking up a board game or puzzle that you can work on together. Not only is it a great way to pass the time, but it also encourages teamwork and communication. It's not as spicy as our number 6, but still…
4. Customized jewelry
Show your love with a piece of personalized jewelry, like a bracelet or necklace, with both of your initials. It's a thoughtful and romantic gift that will be cherished for years. Some might opt for a black collar and nipple covers instead of any jewelry, but still…
5. Experience gifts
Create memories with a unique experience, like a hot air balloon ride, a wine-tasting tour, or a weekend getaway to a nearby city. These types of gifts are sure to create lasting memories.
6. Adult toys
Adult products can be a unique way to spice up your life in the bedroom. Either go for a banana-shaped vibrator, for your girlfriend, or buy something for both.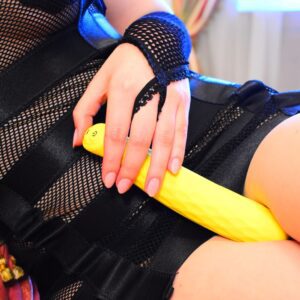 Our intimate gift basket for couples is one of our best sellers, which makes it the perfect gift to impress her or him with when they find it on their pillow.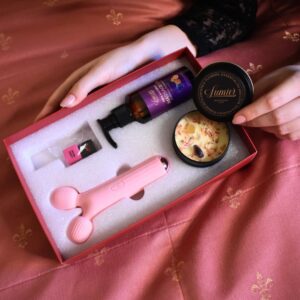 Are there any unique gifts for newlywed couples?
There are numerous unique gifts for newlywed couples that can make their journey more exciting and memorable. Here are some unique and fun ideas:
1. Personalized items
Gifts such as a custom-made photo album, photo frame, or a monogrammed set of mugs can make a couple feel unique and loved.
2. Experiences
Gift the newlyweds an experience like a cooking class, a weekend getaway, or a wine-tasting tour. This will create lasting memories and give them something to look forward to.
3. Smart Home Devices
Smart home devices like Amazon Echo or Google Home can be a practical gift to make their lives easier and more organized.
4. Couple's Spa Day
Treat the couple to a relaxing spa day to unwind and rejuvenate together.
5. Subscription Boxes
Gift them subscription boxes that cater to their interests, like a monthly book club card, gourmet food, or a yoga class subscription.
6. Date Night Kit
Put together a date night kit with a gourmet meal, wine, and a romantic movie. This can help the couple reconnect and spend quality time together.
Overall, there are many options to choose from when it comes to unique gifts for newlywed couples. The key is to find something that suits their personalities and interests that they can enjoy together.
What are some romantic gifts for couples?
Are you searching for unique and fun gifts to surprise your long-term partner and reignite the spark in your relationship? Look no further! We have compiled a list of some of the best romantic gifts for couples:
1. Personalized Photo Album
First on our list is a personalized photo album. Gather your most cherished memories and create a personalized photo album that captures your journey as a couple. This gift shows your partner how much you value your time together and gives you both a chance to reminisce about all the good times you've had.
2. Weekend Getaway
Plan a romantic weekend getaway to a beautiful destination you have always wanted to visit. Choose a location that offers plenty of opportunities for adventure and relaxation. If you're looking for a way to escape the stress of everyday life, why not plan a romantic weekend getaway? Choose a beautiful destination you have always wanted to visit, and plan activities that offer plenty of opportunities for adventure and relaxation. This is the perfect way to reconnect and recharge your relationship.
3. Love Letter Time Capsule
Write a heartfelt love letter to each other, seal it in a time capsule and open it on a unique anniversary in the future.
4. Personalized Couples' Artwork
Commission a painting or a piece of artwork that symbolizes your love and commitment to each other. This beautiful and sentimental gift reminds you of the love you share every time you see it.
For wine-loving couples, personalized wine glasses are a great gift idea. Engrave your name or a special message on them for a personal touch. This gift is not only practical, but it also shows your partner how much you care about their interests.
5. Romantic Dinner
Of course, you can't go wrong with a classic romantic dinner. Plan a candlelit dinner for two at a fancy restaurant or create a special meal at home. Don't forget to set the mood with soft music and dim lighting. This is the perfect opportunity to dress up and enjoy each other's company over a delicious meal. 
Whatever romantic gift you choose, the most important thing is showing your love and appreciation for your partner. Take the time to celebrate your relationship and create lasting memories together. After all, love is worth celebrating every day, not just on special occasions.