If you're new to using a dildo, you might feel nervous or unsure of where to start. But fear not! With the proper knowledge and preparation, using a dildo for the first time can be a fun and rewarding experience. In this article, we'll cover everything you need to know about using a dildo, from choosing the right one to cleaning and storage. So whether you're curious about trying out solo a new toy or want to expand your sexual horizons by knowing everything about sex toys, read our top tips on using a dildo for the first time.
If you're using the dildo for the first time as a virgin, we have another article you might consider. But you may find this helpful one as well.
What should I consider before using a dildo for the first time?
Using a dildo for the first time can be an exciting but nerve-wracking experience. It's essential to consider a few things before diving into this new adventure and inserting it or playing with it. In this blog post, which is more like a guide to masturbation with adult toys, we'll discuss the factors you should keep in mind when using a dildo as a first timer, whether it's regular use, anally, pegging or any other use of the dildo.
Choose the Right Size
The size of a dildo is an essential factor to consider before using it. If you're new to using dildos, it's best to start with a smaller size. You can gradually move to bigger sizes as you become comfortable. Choosing the right size can prevent discomfort, pain, or potential injuries.
Lubrication is vital
Lubrication is essential when using a dildo. It's like a warm-up, so to speak. Ensure you use a high-quality water-based lubricant to prevent discomfort, irritation, or damage to your skin while masturbating. Apply enough lube on the dildo to make your sexual journey enjoyable. Dildos don't have sharp edges, but they still need plenty of lubrication.
Cleanliness
Before using your dildo, ensure it's clean. Wash it thoroughly with warm water and mild soap. You can also use a sex toy cleaner to clean your dildo. Ensure it's completely dry before using it, but ensure it gets as slippery as possible after lubrication.
Experiment with Different Positions
Experimenting with different positions can make your experience better. Find a comfortable position that works for you. You can try lying on your back, kneeling, or standing positions. Ensure you're in a position that allows you to control the depth and speed of penetration and where the dildo vibrates according to your rhythm.
Communication
Communication is crucial when using dildos, of course, when doing that with your lover or sex partner. It's the intro – the more it warms you up, the better the experience. Have patience and enjoy the experience, making it as realistic as possible.
What type of lube should I use with a dildo?
When using a dildo, choosing the right type of lube is crucial in ensuring a comfortable and pleasurable experience. Various types of lubricants are available on the market, each with unique properties and benefits. Here are some factors to consider when selecting the right lube for your dildo:
Material of the dildo
The type of material your dildo is made of plays a significant role in the type of lube you should use. For instance, silicone-based lubricants can damage silicone dildos, so avoiding using them together is best. Water-based lubes are generally safe to use with all types of dildos, regardless of their material.
Sensitivity
If you have sensitive skin or are prone to allergies, choosing a hypoallergenic lube that is free from irritants is essential. Look for lubricants labelled as fragrance-free and contains no parabens or glycerin.
Desired consistency
Lubes come in various consistencies, including thick, thin, like tears, and gel-like. Your consistency will be based on personal preference, so experiment with different types to see which one works best for you.
Duration
Some lubricants are long-lasting, while others may need to be reapplied more frequently. If you plan on using your dildo for an extended period, choose a lubricant that will last throughout your playtime.
Our gift box for adults comes with everything you need for a relaxing night, including some oil massage you can use as a lube in some circumstances. Check it out and consider it as a gift for your partner.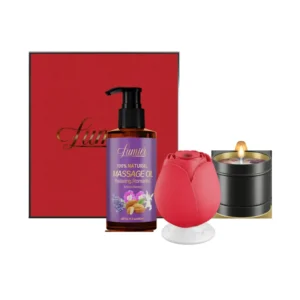 In summary, when selecting a lube for your dildo, consider the material of the dildo, your sensitivity, desired consistency, and duration. By choosing the right lube, you can ensure a comfortable and pleasurable experience. Always read the label and instructions before using any lubricant to ensure it's safe for your body and your dildo. With the proper preparation and communication, your first time using a dildo can be a positive experience that opens up a new world of pleasure.
How should I clean a dildo before and after use?
Cleaning a dildo before and after use is essential to maintain good hygiene and prevent spreading infections. Here are some basic steps to follow:
Check the manufacturer's instructions
Before cleaning your dildo, check the manufacturer's instructions. Some materials require specific cleaning methods or certain types of cleaners.
Wash with soap and water
Begin by washing the dildo with warm water and mild soap. Be sure to wash all the crevices and ridges of the toy.
Rinse thoroughly
Rinse the dildo thoroughly with warm water to remove any soap residue.
Use a specialized toy cleaner
You can use a specialized toy cleaner for extra cleaning power. These cleaners are designed to kill bacteria and viruses without damaging the toy's material.
Disinfect with rubbing alcohol
If you want to be extra cautious, disinfect the dildo with rubbing alcohol. Simply dampen a cloth with rubbing alcohol and wipe down the entire surface of the toy. Allow it to air dry before storing.
Store in a clean, dry place
After cleaning, store the dildo in a clean, dry place. Avoid storing it in direct sunlight or high humidity.
Remember, it's essential to clean your dildo both before and after use. By following these steps, you can ensure that your toy remains clean, hygienic, and ready for use whenever needed.
Should I use a condom with a dildo?
Yes, it is recommended to use a condom with a dildo for several reasons, but most women don't use condoms with dildos. Some say they don't feel the same vibration, but it depends from one woman to another.
Firstly, using a condom can help prevent the spread of sexually transmitted infections (STIs). Even if you or your partner do not have any visible symptoms, there is still a risk of transmitting an STI through bodily fluids or skin-to-skin contact. Using a condom can provide a barrier and reduce this risk.
Secondly, using a condom can make cleaning your dildo easier. Dildos can be porous and absorb bacteria, which can lead to infections. Using a condom can prevent bacteria from getting into the pores of the dildo and make cleaning it more effective.
Lastly, using a condom can help prolong the life of your dildo. Materials such as silicone, rubber, or jelly can break down over time when exposed to certain substances, such as oils, lotions, or lubricants. Using a condom can prevent these substances from contacting the dildo and extend its lifespan.
There is a different story when using a dildo in the shower, as the lube behaves differently in the bath tube.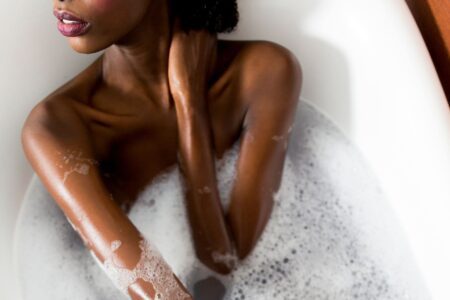 In summary, using a condom with a dildo is a simple and effective way to protect your health, hygiene, and investment. It's always better to be cautious and take precautions to ensure safe and enjoyable sex.
Taking care of your dildo is crucial to ensure a safe and enjoyable sexual experience. Cleaning it before and after use and storing it in a clean, dry place is essential to maintain its hygiene and prolong its lifespan. Using a condom with your dildo can also provide a barrier against STIs, prevent bacteria absorption, and protect the material from breaking down. Following these tips, you can keep your dildo clean, hygienic, and ready for your next sexual adventure.
Is this the first time using a dildo? Now you know what to do to have the best experience. You might also want to check our sex toys for virgins' selection.
Either way…enjoy!