The realm of cinema can provide an enticing exploration of various sexual lifestyles and practices, including BDSM. For couples embarking on their BDSM journey, movies can be a thrilling source of inspiration and conversation. Here, we compile a list of influential BDSM-themed films that are notable not just for their erotic content but also for their exploration of the dynamics, complexities, and emotional contexts accompanying BDSM relationships.
For those curious, if there are movies depicting couples' BDSM experiences, here at Lumier, we prepared top BDSM movies to spice up your intimate life.
Secretary (2002)
'Secretary' is an engaging exploration of a submissive/dominant relationship that develops between a boss and his secretary. It's a quirky and sensitive film that approaches BDSM with tenderness and humor, emphasizing the importance of consent and communication.
It's an ideal starting point for those new to BDSM, and it is inspiring for those who have their first BDSM experience.
The Duke of Burgundy (2014)
This film offers an intimate look into the life of a lesbian couple engaged in a dominant/submissive relationship. 'The Duke of Burgundy' delves deep into the emotional aspects of BDSM, highlighting the significance of negotiation, aftercare, and the mutual satisfaction of both parties involved.
It is an aesthetically pleasing film with a compelling storyline, proper for couples in a romantic relationship.
9½ Weeks (1986)
A classic in erotic cinema, '9½ Weeks' explores the relationship between a New York art gallery employee and a Wall Street broker. Their relationship evolves into sexual games based on dominance and submission. The film serves as a reminder of the importance of setting boundaries and the potential consequences of not doing so.
The Piano Teacher (2001)
This provocative film explores the secret life of a piano teacher with masochistic sexual fantasies. While it provides a more unsettling look into BDSM, 'The Piano Teacher' explores unfulfilled desires and the darker side of human sexuality. This film is more suitable for viewers ready for a more profound and challenging perspective on BDSM. We talk about experienced couples ready to get deeper into the BDSM world.
And, if this movie inspires you, we propose the best BDSM gift for couples. This comes with a blindfold, dildo, spanker, flogger, dice, and position cards to inspire you both.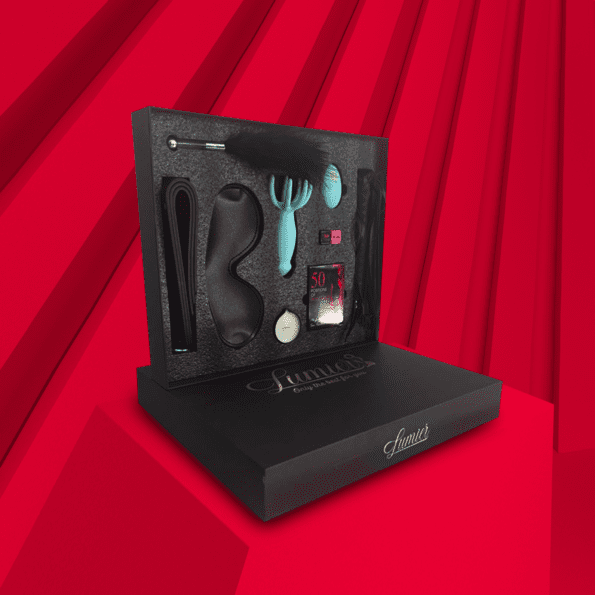 Fifty Shades of Grey (2015)
While controversial and often criticized for its depiction of BDSM, 'Fifty Shades of Grey' nonetheless brought BDSM into mainstream conversation. It's essential to watch it critically, understanding that the film is more of a Hollywood interpretation than an accurate representation of a healthy BDSM relationship. However, it could be a conversation starter about what BDSM is and, just as importantly, what it isn't.
Belle de Jour (1967)
In this classic film by Luis Buñuel, a young wife living a seemingly ordinary life harbors secret BDSM fantasies. 'Belle de Jour' explores the psychological aspects of BDSM and how it intertwines with the complexities of personal identity. While it is a product of its time, it still offers valuable insights into the world of BDSM.
Maîtresse (1975)
This French film offers a more detailed look at BDSM, focusing on a professional dominatrix and the man who becomes enamored with her. 'Maîtresse' delves into the professional side of BDSM, illustrating the importance of consent, negotiation, and respect. It can provide insight into the more structured and formalized aspect of BDSM play.
While these top BDSM movies can inspire and provoke thoughtful conversation, it is vital to remember that they are works of fiction. Real-life BDSM is based on consent, communication, safety, and respect and may not always resemble the dramatic depictions seen on screen. As always, ensure that your journey into BDSM aligns with your comfort level, desires, and boundaries.
For those still not entirely comfortable with BDSM, we encourage them to check our selection of adult toys. Maybe they find something inspiring.