Hey there, ladies! Are you ready to dive into the world of pleasure and power in your relationship? Today, we're going to explore the exciting realm of BDSM for lesbians. Whether you're new to the scene and at the first BDSM experience or looking to spice things up, this blog post guides you through the ins and outs of this exhilarating and intimate form of sexual exploration.
So grab your favourite toy, put on your sexiest BDSM lingerie, and embark on this thrilling adventure together!
What types of BDSM activities are popular among lesbians?
Hey there! Ready to dive into a conversation about BDSM activities popular among lesbians? Let's do this!
Regarding BDSM, it's important to remember that everyone's preferences and desires are unique, and there is no one-size-fits-all answer. That being said, there are a few BDSM activities that are commonly enjoyed by many lesbian couples. Let's explore some of them:
Bondage involves restraining or being restrained by your partner using ropes, handcuffs, or other bondage equipment. It can be an incredibly intimate and trust-building experience.
Dominance and submission. Many lesbian couples enjoy exploring power dynamics within their relationships. This can involve one partner taking on a dominant role (the "top") and the other partner taking on a submissive role (the "bottom"). Negotiating boundaries and consent is crucial in this type of play.
Impact play: This includes spanking, flogging, paddling, or other forms of consensual physical stimulation. Exploring sensation, power dynamics, and trust within a safe and consensual space can be thrilling.
Role-playing: Dressing up and taking on different roles can be a fun and exciting way to explore fantasies and power dynamics. Let your imagination run wild and create scenarios that fulfill your desires. Wear any body harness lingerie or any lingerie you love during the play, and let your imagination do the rest.
Sensation play involves using different objects or techniques to create unique sensations in your partner's body. From wax play to ice cubes, feathers to blindfolds, some BDSM kits for partners might be helpful.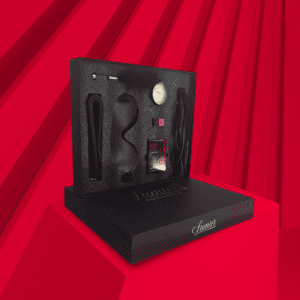 What are some BDSM techniques specifically tailored for a lesbian couple?
Hey there, lovely ladies! Are you and your partner ready to spice up your love life with deliciously daring exploration? If you're looking to dive into the world of BDSM as a lesbian couple, we've got you covered! Let's explore tailored techniques to ignite your passion and deepen your connection.
Sensory Play
Get ready to tantalize your senses! Sensory play involves utilizing different textures, temperatures, and sensations to enhance pleasure. From soft feathers and silk scarves to ice cubes and small vibrators, experiment with what turns you both on. Blindfolds can also intensify the experience, allowing one partner to surrender to the other's touch fully.
Power Exchange
The power play is a thrilling aspect of BDSM. Lesbian couples can explore dominant and submissive roles, taking turns in a consensual power exchange. This could involve role-playing scenarios, such as boss and secretary or teacher and student, where one partner takes charge while the other submits. Remember, communication and consent are key!
Bondage
Let your inner seductress come out to play! Bondage can be fascinating for lesbian couples. Experiment with handcuffs, silk scarves, or rope to restrain your partner or be restrained yourself. The feeling of surrendering control or taking control can be exhilarating and heighten your connection like never before.
What advice do experienced lesbian BDSM practitioners offer to newcomers?
Hey there, fellow lesbian couples! If you're curious about exploring BDSM and are new to the scene, you've come to the right place. Today, we're delving into the exciting world of BDSM and sharing some advice from experienced lesbian practitioners who have been there and done that. So, buckle up and get ready to learn!
Communication is key
BDSM is all about trust, and the foundation of trust lies in open and honest communication. Before diving into any kinky adventures, sit down with your partner and thoroughly discuss your desires, boundaries, and expectations. Discuss your comfort levels, hard limits, and specific kinks or fantasies you want to explore. The more you communicate, the better your experience will be.
Educate yourselves
BDSM is a vast and diverse realm, so educating yourself about the various practices, safety precautions, and consent is crucial. Read sex and adult toys blogs, attend workshops, join online communities, and talk to experienced practitioners. The more knowledge you gain, the better equipped you'll be to navigate the BDSM landscape confidently and safely.
Start slow and ease into it
BDSM is not a race; it's a journey. Take your time exploring different aspects and gradually push your boundaries. Start with light bondage, sensory play, or spanking, then progress to more intense activities if you're comfortable. Remember, it's perfectly okay to go at your own pace and adjust.
Safety first
Safety in BDSM should always concern both lesbian partners. Here, you should discuss limits before the actual play and set up some safewords to distinguish between casual and exciting "no" or "Don't!" and a situation that requires an immediate stop.
Don't forget about aftercare; this is also a critical phase to consider after BDSM fantasies come true.
Now that you have improved your knowledge of what BDSM for lesbians means, you should start off your journey together and enjoy life to its fullest.