Welcome to a world where sensuality and submission collide, where the tantalizing touch of delicate lace intertwines with the intoxicating allure of dominance. In this provocative realm, lingerie becomes more than fabric and straps; it becomes a symbol of power, an instrument of desire, and a gateway to pleasure. So, whether you're a seasoned submissive or a curious explorer, prepare to be seduced as we delve into the captivating world of BDSM lingerie.
It's time to unleash your inner fantasies and indulge in a journey where submission meets sensuality, and passion and pain intertwine in a mesmerizing dance.
What is the best type of lingerie for BDSM-style play?
As a submissive who has explored the fascinating world of BDSM-style play, I understand how crucial it is to find lingerie that complements our roles and enhances the entire experience. In this blog post, I will share my personal insights and recommendations on the best type of lingerie for indulging in the captivating world of BDSM.
This is sometimes the first question people at their first BDSM experience ask themselves: What should I wear for BDSM-style play? Here are some answers.
Leather and Latex: The Epitome of Dominance and Submission
If you're seeking to accentuate your submissive side and embrace the power dynamics of BDSM, leather and latex lingerie are unparalleled choices. The sensation of these materials against your skin creates an undeniable aura of submission, while their tight-fitting nature effortlessly enhances your curves. The rich leather and the sleekness of latex embody the essence of dominance and submission.
Anyway, ensure you respect the safety rules in BDS practice, and your experience will be total.
Bondage-inspired Lingerie: Unleash Your Inner Kink
For those who yearn to explore the thrilling realms of bondage, lingerie incorporating bondage-inspired elements is an excellent choice. Strappy, harness-like designs with O-rings and buckles provide an exquisite visual representation of restraint and control. These provocative pieces not only ignite your partner's desire but also constantly remind you of your submissive nature.
Don't forget to consent to BDSM practice and let the play begin!
Sheer and Lace: Provocative and Vulnerable
An essential aspect of BDSM is embracing vulnerability, and what better way to embody this than through sheer and lace lingerie? The delicate fabrics and intricate designs of sheer and lace lingerie exude a sense of seduction and vulnerability. The sheer material leaves little to the imagination, teasing and tormenting your partner, while the lace adds a touch of elegance and femininity. This combination allows you to showcase your submission while embracing your sensuality.
Role Play Costumes: Embrace Your Fantasies
Role play is a common element in BDSM play, allowing you to explore different power dynamics and scenarios. Whether you fantasize about being a naughty schoolgirl, a seductive nurse, or a provocative maid, incorporating role-play costumes into your lingerie collection can add excitement and authenticity to your experiences. Dressing the part not only enhances your role as a submissive but also helps create a more immersive experience for you and your partner.
Any favourite BDSM movies? Or do you want to let your imagination roam freely? Either way, you'll have a fantastic night to remember if you are into BDSM fantasies.
Choosing the perfect lingerie for BDSM-style play is a deeply personal and empowering experience. It allows you to fully embrace your submissive nature while igniting desires and fulfilling fantasies. From leather and latex to bondage-inspired designs, sheer and lace, and role-play costumes, countless options are available to help you express your role in the BDSM lifestyle. So, step into the captivating world of BDSM lingerie and let your imagination run wild as you embark on a journey of submission, sensuality, and pleasure.
Are there any safety considerations to consider when using BDSM lingerie?
When it comes to exploring the world of BDSM, safety should always be a top priority. This applies not only to the activities and equipment involved but also to the lingerie you choose to wear during your play sessions. While BDSM lingerie can enhance the overall experience, there are indeed safety considerations to keep in mind.
First and foremost, ensuring that the lingerie you select is made from high-quality materials is crucial. Opt for pieces that are specifically designed for BDSM play and are crafted with durability in mind. Cheaply made lingerie can easily tear or break, leading to potential accidents or injuries. Look for trusted brands or reputable sellers who prioritize safety and quality.
Another important consideration is the fit of the lingerie. Ill-fitting garments can cause discomfort or restrict movement, which can be dangerous during BDSM scenes. Take accurate measurements and choose lingerie that fits well and allows you to move freely. Avoid too tight items, as they can cut off circulation or cause unnecessary pain.
Pay attention to the design and construction of the lingerie as well. Avoid pieces with excessive attachments, such as large metal rings or sharp edges, as these can pose a risk of injury. Look for lingerie with secure closures, such as adjustable straps, buckles, or snaps that won't quickly come undone during play.
It's also crucial to communicate with your partner about any allergies or sensitivities you may have. Some materials used in lingerie, such as latex or certain dyes, can cause skin reactions.
Embracing My Submissive Side: Where to Find the Perfect BDSM Lingerie
As a submissive exploring the captivating world of BDSM, finding the right lingerie to express my role has been a thrilling journey. The perfect lingerie enhances the excitement and embodies the essence of submission. In this blog post, I will share my experience and guide you through some fantastic places where you can procure stunning BDSM lingerie to embrace your submissive side.
We offer BDSM lingerie options for all who embrace this experience in their bedroom.
Our first option is a black outfit of body harness lingerie, BDSM style dress, harness, crotchless, goth, and erotic dress.
The leather harness lingerie is incredibly revealing yet still has an elegant and sophisticated touch with its stunning floral center design. Showcase your gorgeous curves in this figure-hugging piece with side straps that will make you feel like the goddess you are. Pair with your favourite heels or thigh-high boots and some whips and chains to complete the look.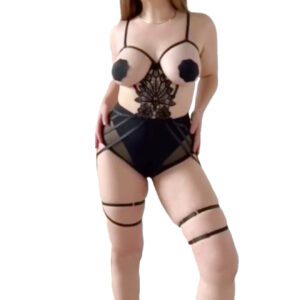 We have another proposal for the BDSM enthusiasts. The fishnet lingerie is the perfect kinky ensemble to wear for a night of fun in the bedroom with that special someone, but you can also pair this sexy and sophisticated piece with nipple pasties and wear it to the club for a night of excitement.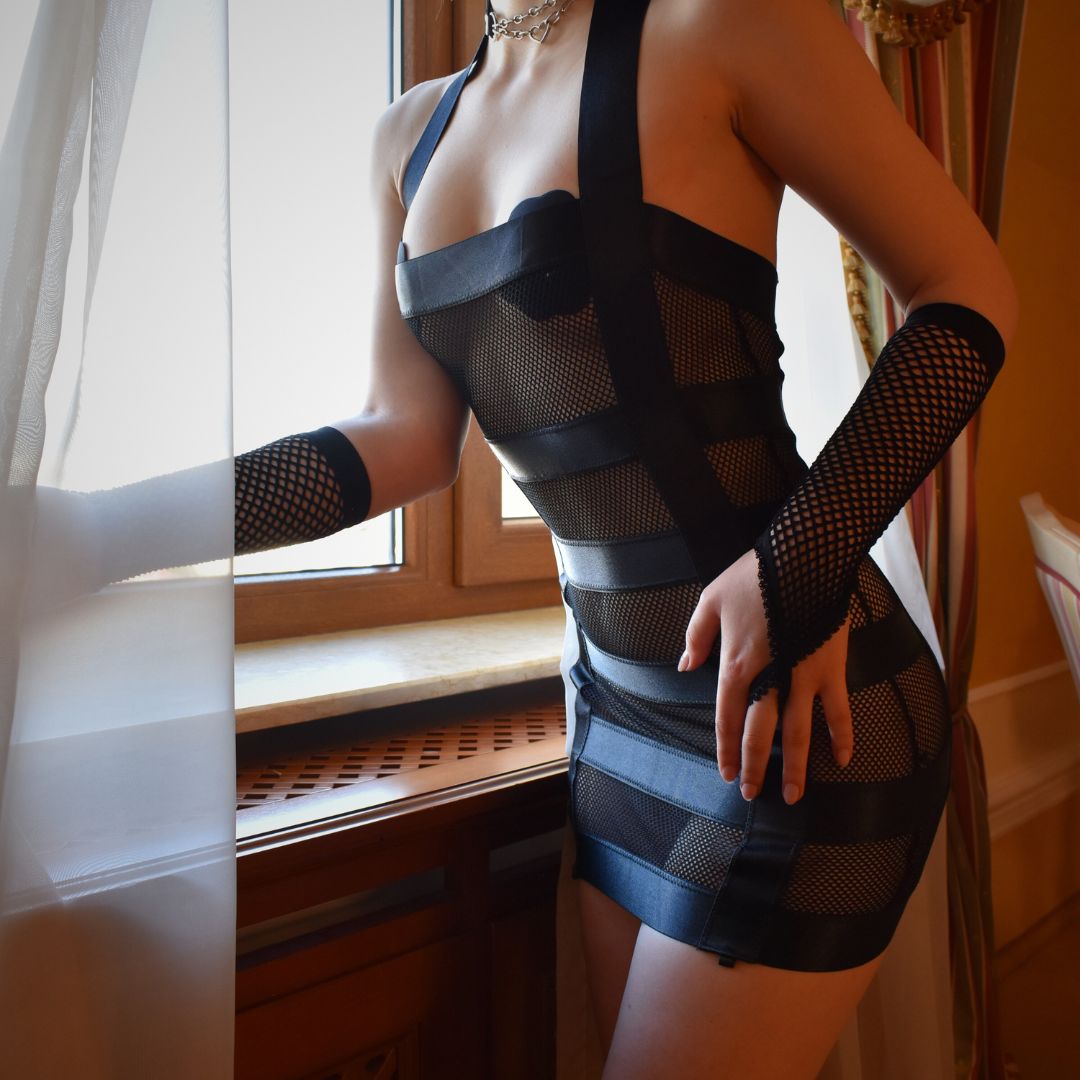 All you have to do is order from our website today and enjoy the best erotic moments while wearing these BDSM outfits.
Enhance your experience with any BDSM gifts from our collection, and the night will be perfect.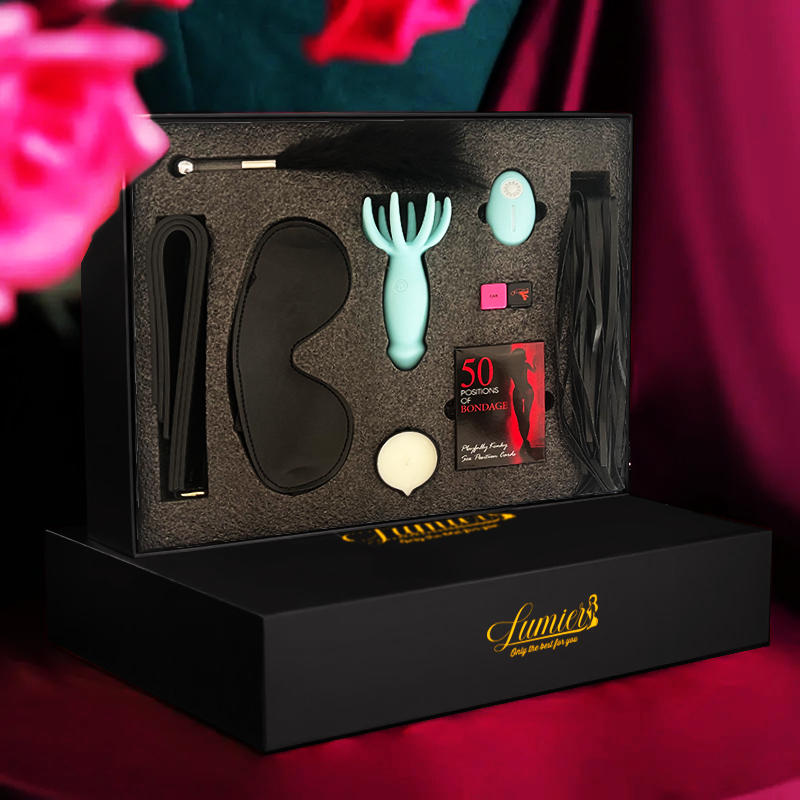 Finding the perfect BDSM lingerie to embrace my submissive side has been exhilarating. From the stunning leather harness lingerie that showcases my curves to the sexy and sophisticated fishnet lingerie, many options are available to express my role in the BDSM lifestyle. By exploring these fantastic places and ordering from reputable websites, I can confidently enjoy the best erotic moments while wearing these beautifully crafted outfits.
So, fellow submissives, don't be afraid to indulge in BDSM lingerie and let your submissive side shine.